Viaggio a Sud-Est con Enrica De Melio
Archaeologist
Tourist and
Cycling Guide

To discover the beauties of Sicily's southeast
Viaggio a Sud-Est
Dr. Enrica De Melio
"Fill your life with unforgettable experiences
so you always have a great story to tell"
My services
Phd. Archaeologist and Qualified Tourist Guide in Sicily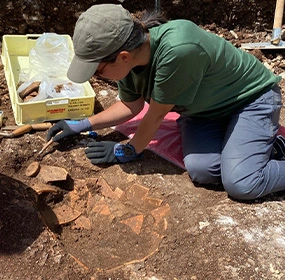 Services
for Archaeology
Archaeological Surveillance, Archaeological Excavation, Archaeological Survey in Syracuse
and its province.
Guided walking
& cycling tours
Customizable cultural walking
and cycling tours in Syracuse,
Noto, Palazzolo Acreide
and surrounding areas.
Guided tours
Siracusa, Noto and surroundings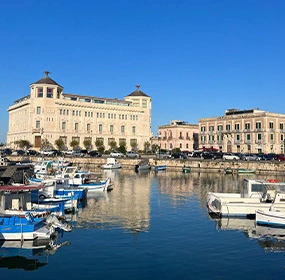 Guided tour
of the island of Ortigia,
the historic center
of Siracusa
Itinerary: Temple of Apollo,
Piazza Archimede/Diana Fountain, Piazza Duomo, Cathedral/Temple of Athena, Fonte Aretusa.

Duration: 2 hours
Guided walking tour
Archeological Park
of Neapolis
of Syracuse
Itinerary: Quarry of Paradise,
Saltpeter Cave, Ropemakers Cave,
Ear of Dionysius, Greek Theatre,
Hiero Altar, Amphitheatre.

Duration: 2 hours
Guided tour
of the city
of Syracuse
in a day
Cultural tour on foot or by bicycle, customizable, to discover the historical and unmissable points of interest
of the city of Syracuse.

Duration: 6 hours
Guided walking tour
of Noto
Itinerary: Porta Reale,
Church of S. Francis, Church of S. Clare,
Basilica SS. Salvatore, Cathedral, Nicolaci's Palace, Church of S. Charles,
Municipal Theatre.

Duration: 90 minutes
Guided walking tour
of Vendicari
Tour of the central sector of the Vendicari Oriented Nature Reserve,
to discover the Tower, the Tonnara
and the Hellenistic factory
for processing the fish.

Duration: 90 minutes
Guided walking tour
of Palazzolo Acreide
Cultural tour of the historic center of Palazzolo Acreide, one of "The most beautiful villages in Italy" and of the Archaeological Area of ​​Akrai, founded by Siracusa in 664/663 B.C.

Duration: 3 hours
About me
Specialized Archaeologist since 2011 and Qualified Tourist Guide in Sicily since 2014
Born in '83, I was born and have always lived in Siracusa.
In 2005 I graduated in Cultural Heritage Sciences, in 2007 in Archaeology, and finally, I graduated from the School of Specialization in Archaeology, at University of Catania, in 2011.
In 2014 I passed the Sicilian Regional competition for Tourist Guide and in 2022 I graduated as National Instructor of Cycle Tourism and Mountain Bike.
Questions?
I will be happy to respond to any request for information on my services,
free estimates and reservations.